A love of youth Chapter 7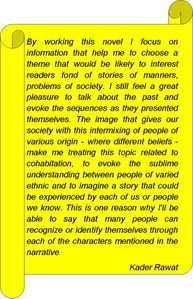 To discover my complete works 'in French' published on Amazon Kindle, please click HERE
A love of youth
I drove her to the station in the afternoon, and after we said goodbye to each other, shedding tears, we separated, the heart broken and a lump in our throat. While the train took away the only friend who was important for me, I saw this part of my life fly away with sadness. My son helped me carry up my pain thanks to all the distractions I had in his company.
The discretion of the daily life to which I was not used, made me have new aspirations. I found them in this lifestyle I had to live. However, waiting at the bus stop or taking the subway began to seem ridiculous and embarrassing to me. I refused to throw myself in high life; it may be a mistake. But I had to go out to try my luck. My son would be the victim if I failed in my life. I sweat it out to support all the pains that could fall over me. If it depended on me only I would have endured the pains and the sorrows? But I could not see my son suffer without being affected. When he was sick, I panicked and even dramatized the situation. I worried a long time until his health improved. I was ready to do everything for him!
The salary I hardly earned allowed me to lead a good life. I succeeded with difficulty in saving money to cope with the unforeseen expenses. But one day, something terrible happened to me. My son fell seriously sick. I had spent all my money. I was not able to cope with the situation. The idea to steal and kill did come to my mind. I stood next to the cradle to cry because I did not know how to take care of Akbar. I decided to empty the drawers, to search in the pockets of the dirty clothes, to look in the bottom of the wardrobe to find money. It was in vain. I had jewelry. I had not hesitated to pawn them so that Akbar could see a doctor and buy some medicines.
Early in the morning, as I was walking to the bus stop, a real dangling driver proposed to take me to my workplace. I had never accepted to get into a car of unknown people. I was indifferent to the cars that slowed down or to drivers who wanted to speak to me. I had good reason to be distrustful. Every day, I read in the newspapers about rapes, indecent assaults, aggressions, murders. Every individual appeared a sex maniac, a retarded person to me. I had not trust in men since the time I was at school. I feared men except if I felt I could face them.
The influence of the society in which I lived was stronger than my will to preserve some old sheer outmoded youth principles. After Devika's departure, I felt emptiness in my life. I dreamt nights and days of fortune and imagined a life of splendor and pomp. The salary I earned was not sufficient to allow me to live correctly. However after counting everything that was necessary to improve my conditions, I came to the conclusion that I had to quadruple my salary to be able to live as I imagined. But how could I earn such a sum? I was part of these humble employees that had got neither diplomas nor experiences nor recommendations. The limit of my salary was so low that my chief ambitions and dreams vanished forever. I had no hope to improve my professional situation. I did not intend to remain doing nothing. I had many projects to let me surpassed by life. When I decided to fight, I was facing the world alone. My strongest enemies were the men, who were responsible of my misfortunes and to whom I began to turn my look. It was only in confronting me to them that I would succeed in defeating them. Otherwise I would be a loser forever. I did not want to fail. I was ready to make substantial efforts to survive. I had abandoned my family, left fortune and happiness to embark in these adventures because of a man's mistake. What happened home when my family noticed I had disappeared? How much my parents had suffered when discovering they had lost me forever? Who was responsible for such punishments, such torments, if not a man, a man not different from the others? How could I survive? I luckily met a middle-aged man with grizzled hair in a car exhibition. He looked like these Jewish American who often came to Marseille for their vacations. But he was a Jewish Polish who set up in France after the end of the Second World War. His Polish accent confirmed my thoughts and his pace let no doubt. I learned that his wife had just died. He confided me that he was at the head of a powerful car industry. He could make me benefit many advantages if I accepted to help him to forget his sorrows. I thought he was too old for me and did not want to relieve him. I told him I was not one of these prostitutes he was searching and believed he could easily have. He confessed he knew the area well enough to distinguish new faces from the old ones. He was interested in me because I had impressed him with my pace. I had changed my "look" for some time. I had cut my hair but I also wore sunglasses. I knew it looked stylish. The beauty products, the makeup and the colors completed this transformation and transformed me in a modern girl. It was not with an old man that I would take the initiative to face men. I had the presence of mind to stay as quiet as I could be so as not to let him see my heart, I preferred to say few words during this short interview that could have disastrous consequences.
In the meantime, I had received a letter from Devika that made me an immense pleasure. She wrote she had a pleasant journey to Delhi and had no difficulty. The best moment was when she met doctor Ajay at the airport. He welcomed her with flowers. A flock of children offered her flower necklaces. Her children were very well and often spoke about me. They drove to the house. The few things she had seen in India fascinated her. She got used to the new society where she wished to spend the rest of her life. "It is a marvelous country", she wrote, "and I wish you to come to pay a visit to me one day". She promised to write me a long letter when she would have settled.
This letter reassured me on her situation. I was happy she enjoyed her new life. I wrote her some days later to give news and to tell her how I did all alone. I did not stop telling her how I missed her and how I was hurry to see her again.
In the evening, I wondered what retained me in Marseille. I saw one thousand possibilities for the future instead of wasting my time in this area where I certainly had nothing to do. The idea of returning to Reunion often came to my mind. What would I tell my parents after my mysterious disappearance? After more than one year of absence, I would come back with a child. Gossips that would be told about me would be sufficient to make me regret such a decision. I was aware of how the people I knew for years will speak against me, will look at me, will give me an awful reception and treat me rude. Was it not sufficient to make me move away from this world?
I often liked to dream on my future. It allowed me to see things perfectly well. I enjoyed travelling in the future to guess the consequences of the actions I planned to launch. Therefore, in case I might decide to return home, the first thing I had to do was to announce them I was well and live in France. I imagined the joy they would feel. I did not need to explain what had happened. They would be more interested to learn about my situation than my misadventures. They would be impatient to see me again. How much value a lost object can have! I would be welcomed with pump and circumstances and a big feast would be organized in my honor. But when the feast ended, when the guests left, when I stayed alone with my parents, what explanations would I give to justify this long absence? Would I be obligated to hide the truth? Would I have the courage to tell my mistakes, my madness that dishonored me? And what did I hope for the future? My parents to greet me? To forgive me, to tell me that the principal was I was with them, that I was alright, that they loved me and that I did not have to worry, that they would protect me and that life would better than before? How would my child be considered and what consideration would be granted to him? I was afraid that my parents may not recognize my child. I would be disappointed but what could I do? I would prefer not to think of it. It would be honest to inform them by letter that I was alive. My conscience would be clear.
My job allowed me to have contact with numerous people from different social conditions. I had the opportunity to talk to all those who wanted to tell me about their life. I was informed of the problems that existed in different ways. I could not stop from extracting the moral lesson of this and show me more circumspect in my relationship with people. The reversals of life have extremely unpleasant consequences. Parents and children do not get along well anymore, divided by their ideology. The fashion and culture of the new generation rejects old traditions. Parents impose, children use. This contradiction leads to deterioration in the relationship between parents and children, coldness in the feelings. It was the beginning of a long conflict that always finished in pain and to which other difficulties of life were added. The scathes caused by those fierce conflicts do not heal quickly and scars stay forever. The least upset open them and revive the pain. Living in such condition requires courage, will and strength. How painful it is to end his life in another way than imagined. It is in difficult moments that one feels alone, isolated. In that moment, everything seems as cold and dingy as a tomb. In reality, life is the way it has to be. I wanted to avoid my life to be a failure. I did not see how I could improve my situation. It was undoubtedly necessary I could do it. It was a time when I was monopolized, overwhelmed such as a patient who suffers psychic unrest. I asked Shenaz to stay the night to take care of Akbar. I sometimes heard at night strange noises and screams that made Shenaz hurry to my room to reassure me. I worked more than usually recently. I went home extremely late, burned-out. I lacked distractions. I needed to go out and meet people.
Original title : Un amour de jeunesse©Kader Rawat
Translated by ©Kader Rawat April 2013
Pour être informé des derniers articles, inscrivez vous :